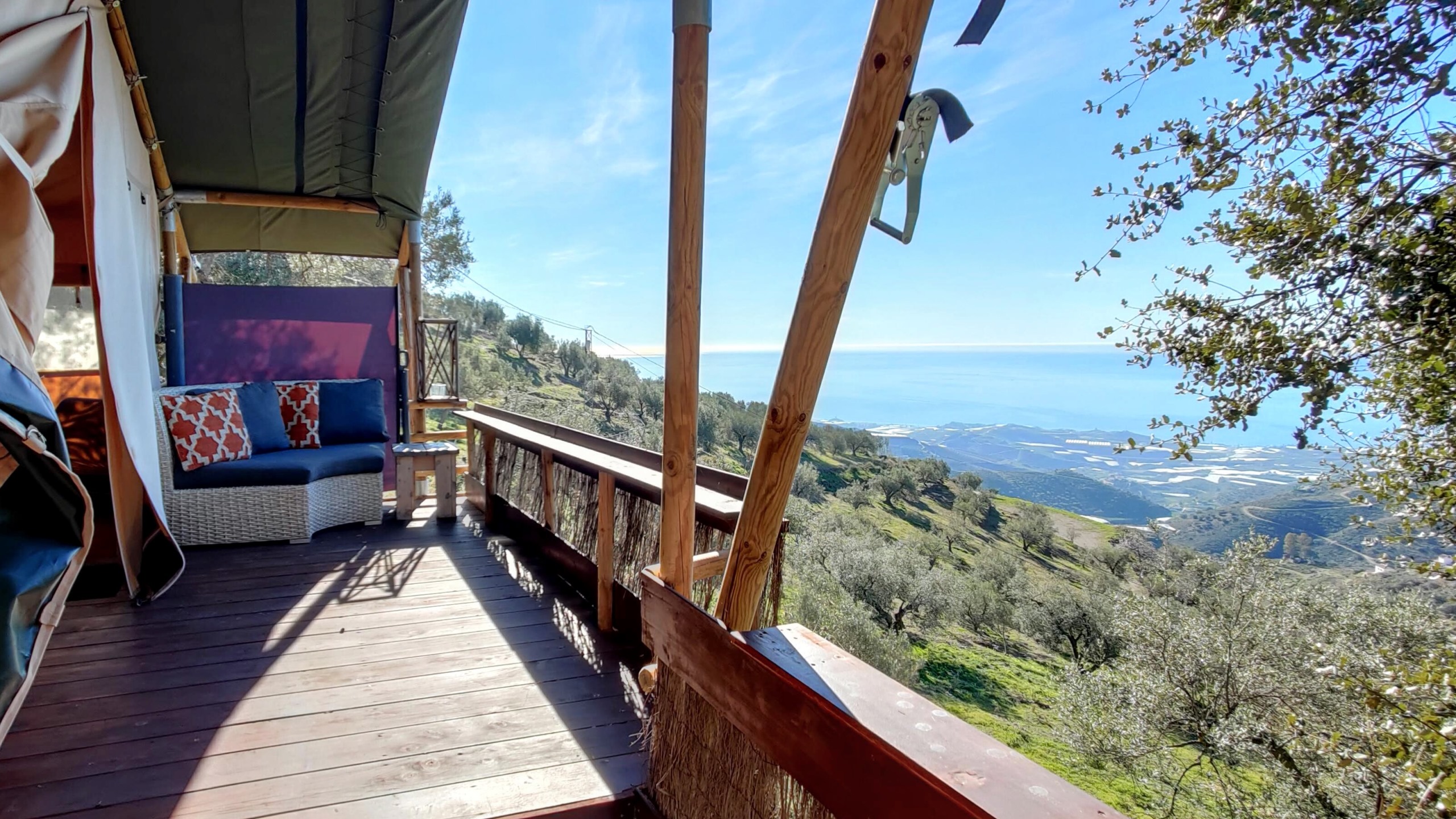 Sun, sea, nature and culture: it comes together in Sayalonga
Boutique b&b  Campo Agave has comfortably furnished guest rooms and safari lodge tents.
The rooms and lodges all have private sanitary facilities and a private balcony or terrace with breathtaking views of the Mediterranean Sea.
Hostess / host Jes and Wouter live in a dedicated part of the villa. They know the area well and will do everything they can to make your stay as pleasant as possible.
Location
Campo Agave is located in the Axarquia, an attractive region in the south of Andalusia.
Only a 45-minute drive from Malaga and located on a southern spur of an extensive nature reserve. Beach, culture and nature are within easy reach.
Campo Agave view from the air
The coast in the south is always close by and a few kilometers to the north is the protected nature reserve "Tejada y Almijara".
Because Campo Agave is not far from the coast, the climate is strongly influenced by the Mediterranean Sea. Actually, the weather is always great: lots of sun, not too hot in the summer and very comfortable in the winter.
Wonderful climate – beautiful sunsets
Read more ...
* Campo Agave is situated in the countryside of Sayalonga, a lovely little white village of about 1500 inhabitants. This region East of Malaga, is called the Axarquia, one of the most beautiful regions in Andalusia. It is an hour's drive from Malaga airport.
* From Campo Agave it takes you 6 minutes to drive to the main 'plaza' of Sayalonga; on foot it will take about 20 minutes.
* The ride to the coast takes about 20 minutes, which brings you to the charming fishing port of Caleta de Velez.  
* In 30 á 40 minutes you are in the attractive towns of Nerja and Frigiliana.
* A little further away (1.5 to 2.5 hours), but certainly worth a visit, are the historic cities of Granada, Cordoba and Seville.  
Environment and Activities
Away from mass tourism, Campo Agave offers peace, relaxation and a perfect base for activities and excursions in the area. 
The rich history of Moorish and Spanish culture can be found in the cities and the many picturesque "Pueblo Blancos", of which Sayalonga is one.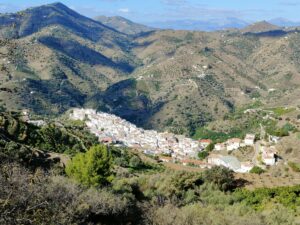 Pueblo Blanco Sayalonga
There is much to discover in the surroundings of Campo Agave. Time seems to have had no effect on the white villages, the charming coastal towns and the Spanish lifestyle. Singing, dancing, tapas and unbelievably good wine, all in the immediate vicinity.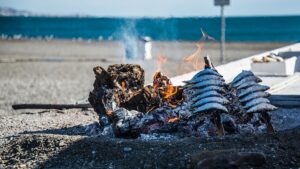 Grilling fresh caught sardines on the beach 
Read more ...
* The beautiful landscape and the many white villages can be explored on foot or by bicycle through an impressive network of paths and country roads. There are marked walking and cycling routes everywhere.
* A special experience is cycling in the mountains with an electric mountain bike. E-mtb's can be rented on the spot! Read about the Campo Agave bed & bike package elsewhere on this web page.
* Enjoy the mountainous nature park, up to 1,800 meters high, with a 4 × 4 terrain car.
* Near by, at Bentomiz wine bodega, you can enjoy some excellent locally produced wines, in combination with a spanish 'high cuisine' lunch and musical accompaniment (Sayalonga, 2 km)
* Visit the squares, markets, museums and shops of the hip city of Malaga (Malaga, 45 km.).
* Or go a little further away, but definitely worth it, to Granada, Seville, Ronda or Cordoba (100 – 250 km.)
* From the harbor of the fishing town of Caleta de Velez, about 20 minutes drive from Campo Agave, it is possible to actually explore the sea, for example by sailing on a catamaran or on one of the dolphin cruise boats. The coral and fish richness in the maritime nature reserve "Cerro Gordo" deserves special mention.
* Explore the Cerro Gordo nature reserve with a sea kayak, with or without guidance (Maro, 20 km.).
* Dive and snorkel in the Mediterranean with the "Dutch Scuba Divers". With their boats from Caleta de Velez you can reach the most beautiful diving sites of the Spanish south coast.
Sun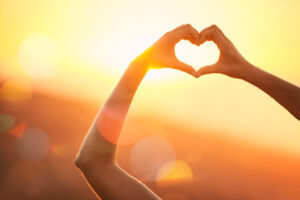 No country in Southern Europe has more hours of sunshine than Spain!
The sun shines here most of the year.
What we have less of is rain. You won't believe it, but sometimes we long for rain. If you get that feeling too, don't worry. You are on holiday, it is allowed. So enjoy!
More about the sun ....
The average daytime temperature of 23 ° all year round is very pleasant. Also in the hottest part of the summer, there is almost always a light sea breeze which makes it rarely TOO hot. Whenever you come, the sun will shine, even in winter. Temperatures above 20 ° in December or January are the rule rather than the exception.
Sea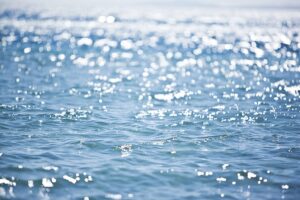 Campo Agave breathes the sea. Even though it is located at an altitude of 530 m, wherever you are on the property, the sea views are breathtaking.
Too much sea view for you? Try to dream away from the pool or your balcony to the sound of the birds. You are on holiday, it is allowed. So enjoy!
More about the sea....
A visit to the beach and the sea is therefore a "must". The beaches are many and varied, such as the quiet bay beaches of the Cerro Gordo and the trendy Burriana Beach in Nerja. Closer to home, at a 20 minute drive, are the attractive beaches of Caleta de Velez and Torre del Mar.
Nature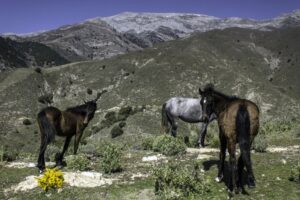 Campo Agave is a nature experience. The landscape is gorgeous with a varied Mediterranean flora and fauna, and beautiful views to the mountains and the Mediterranean Sea.
Ever seen a hunting snake eagle, a flight of bee-eaters or the huge but silent Eagle Owl? They can be seen from your balcony at Campo Agave. You are on holiday, it is allowed. So enjoy!
More about nature ....
A few kilometers north of Campo Agave is the protected nature reserve "Tejada y Almijara". In the mountainous reserve, with the 'Maroma' as the highest peak (2,100 m.),  you will encounter griffon vultures, golden eagles and even wild horses.
Culture
Nowhere in Spain has the ancient Moorish culture left its mark as it did in beautiful Andalusia. Singing, dancing, tapas and unbelievably good wine, all in the vicinity!
In this past of the world we don't know the speed of everyday life as you might know. Also we choose our words carefully ….. slower. Is that annoying? You are on holiday, it is allowed. So enjoy!
More about culture ....
Historic cities such as Seville, Cordoba or Granada are indisputable highlights.
Also in our own Sayalonga, the history can still be found in the existing architecture. All around us are picturesque white villages, seemingly not being influenced by time.  
At the end of the day, when the sun apparently retreats, this daily spectacle is a special experience that will never get boring. Sitting on the terrace of your room or Lodge, you will be amazed to see the glittering diamonds of the sea in front of you …
Guests of Campo Agave can make free use of various facilities. Think of the swimming pool, the "honesty bar", the safari lounge tent, the terraces with (reclining) chairs and various outdoor games. You can prepare your own meals in the communal outdoor kitchen with refrigerator, cooking and BBQ facilities, crockery and cutlery. On the terrace by the pool (9x4m) are sun loungers and seats.
Read more about our amenities ....
Pool
The pool of 5×9 m is open all year round. There is a terrace with seating, sun loungers and parasols. A refrigerator with cold drinks and ice is within reach. A lovely place on a hot summer day …
Outdoor kitchen
The outdoor kitchen with two picnic tables is available free of charge for all guests of Campo Agave. There is a gas stove, refrigerator, pans, crockery and cutlery. BBQ facilities are also available.
Safari Lounge
When it is too cold outside or the sun is too bright, guests can find shelter in the safari lounge, close to the outside kitchen. The tent has comfortable seats, a fan and is heated in the winter months.
Food & Drinks
Upon arrival, all guests receive a welcome drink. For a small fee we can serve a snack (cheese plate, chips, nuts) and a drink (wine, beer, soft drinks). There is also the possibility to prepare a meal in the outdoor kitchen. On the property are two refrigerators with freezer.
Car rental
Our guests have good experiences with a local car rental company in Caleta de Velez. Favorable rates and a free airport shuttle  between Malaga and Caleta de Velez when the car is rented for a week or longer. No hassle at the airport with unclear insurance policies, high down payments or long queues. Interested? Ask us about prices and possibilities.
Hiking in the surroundings of Campo Agave
The surroundings of Campo Agave are ideal for exploring on foot. The mountainous landscape has a varied Mediterranean flora and fauna with beautiful views. You can come across special birds, such as the hoopoe, bee-eater, snake eagle, and after sunset nightjar and eagle owl. 
More about hiking ....
There is an extensive network of campo roads and goat trails, some dating back to the period when the Moors ruled Andalusia. We are happy to advise our guests about the many possible hiking routes and attractions along the way. Our "library" has various hiking books and maps, as well as digital GPS routes that can be sent to your phone if desired.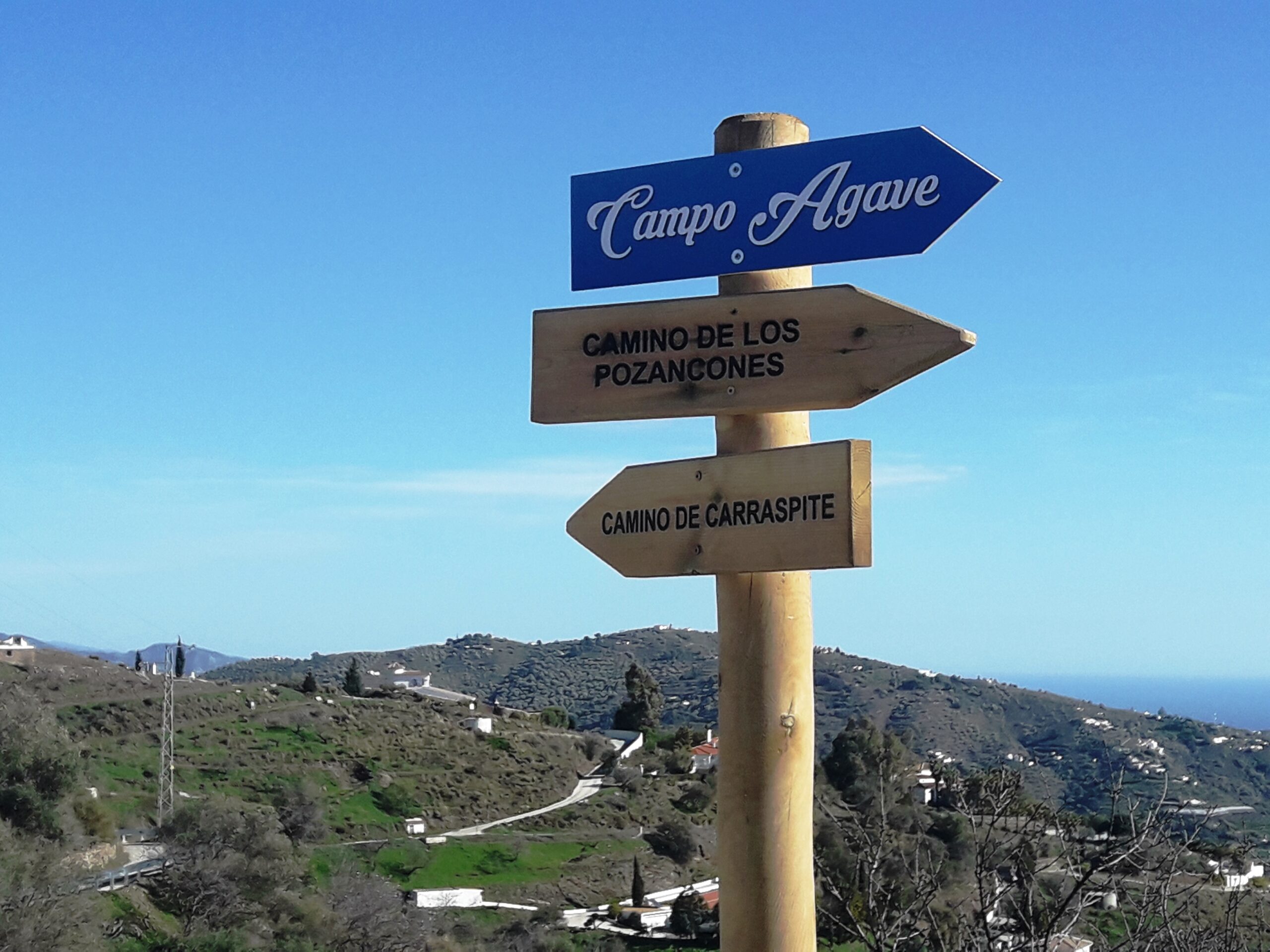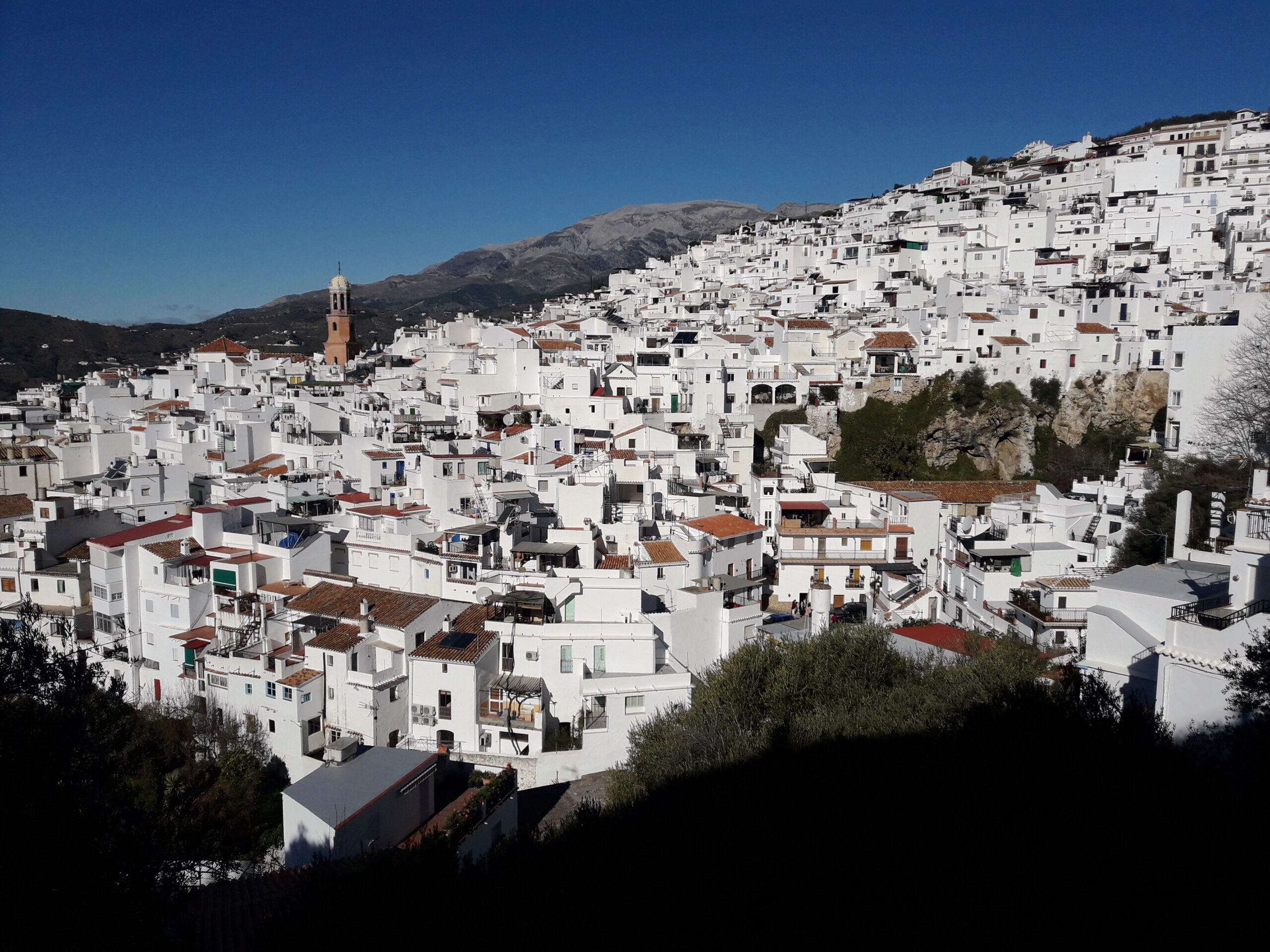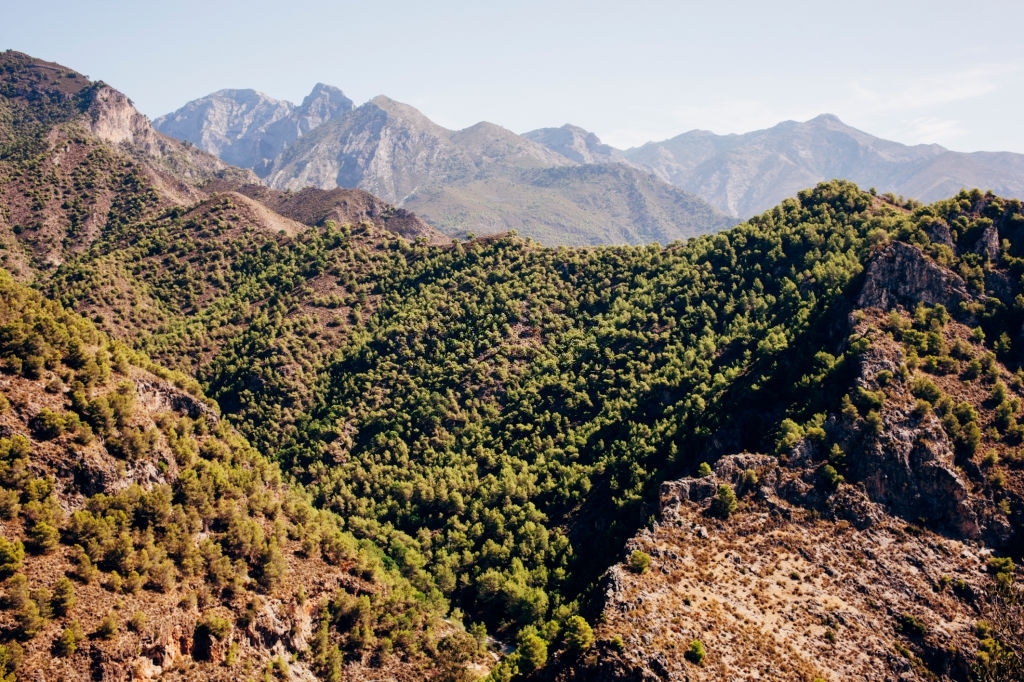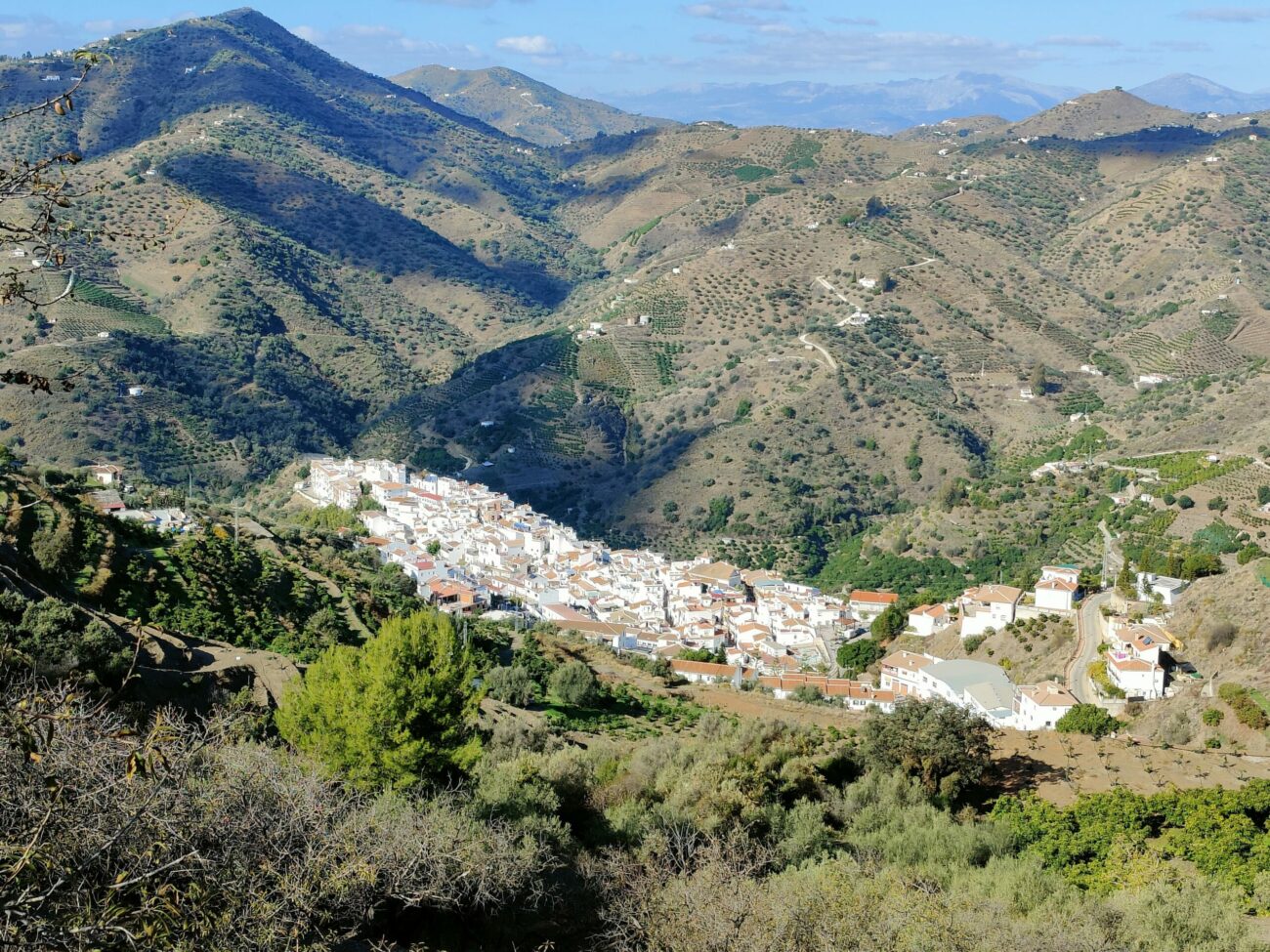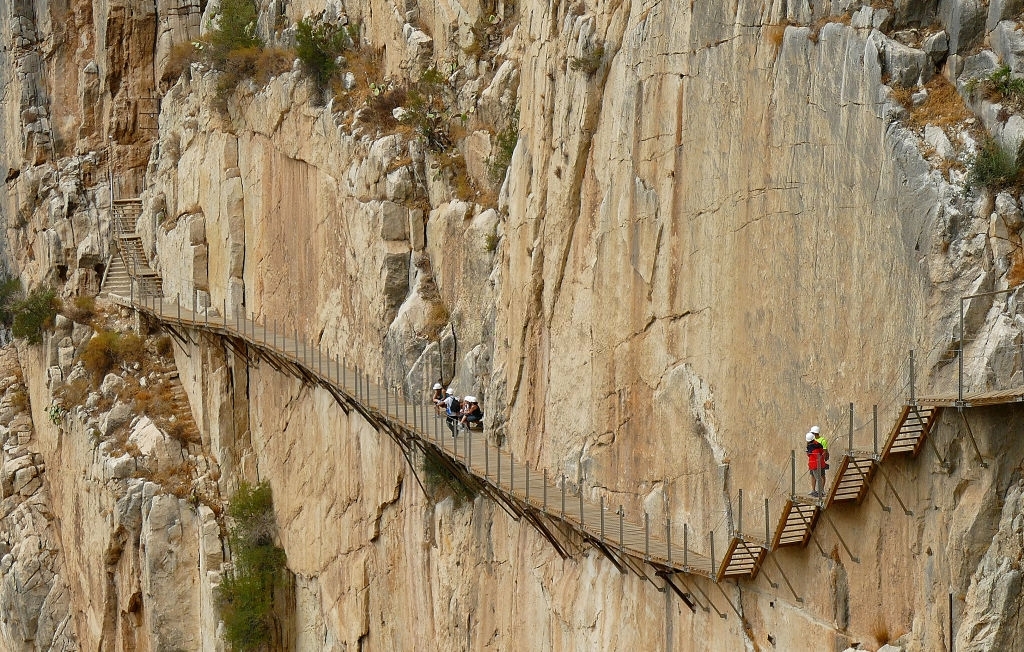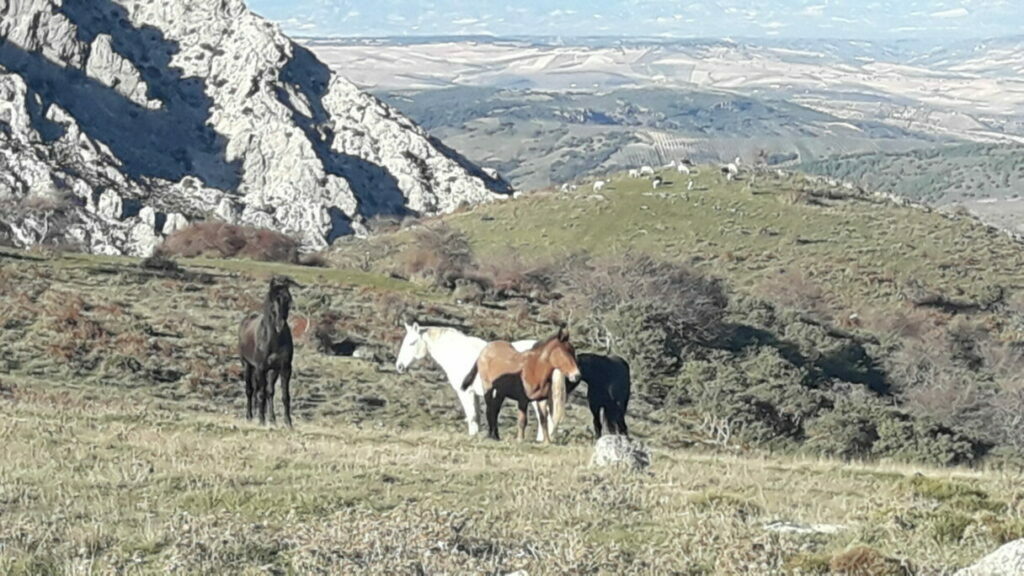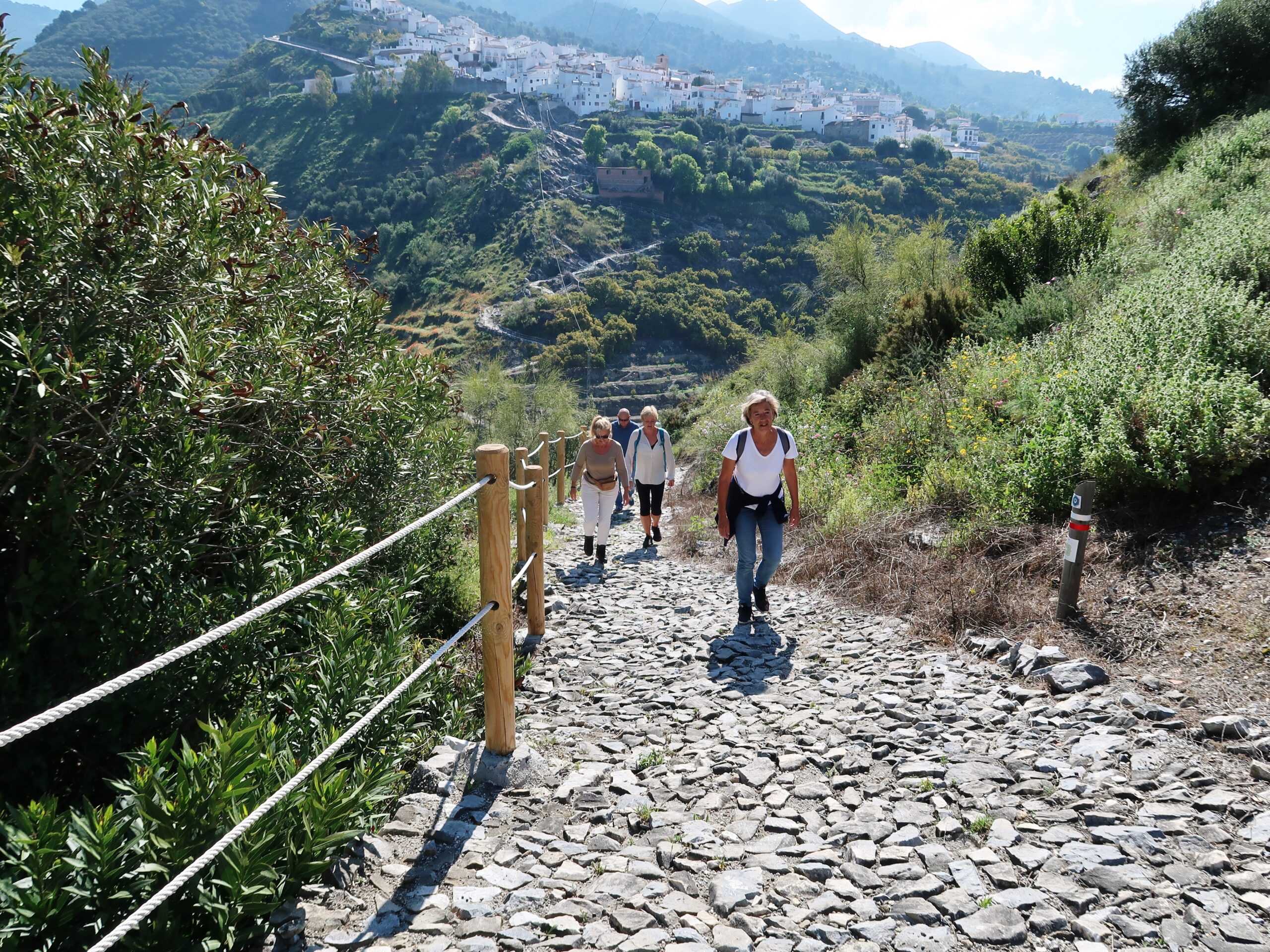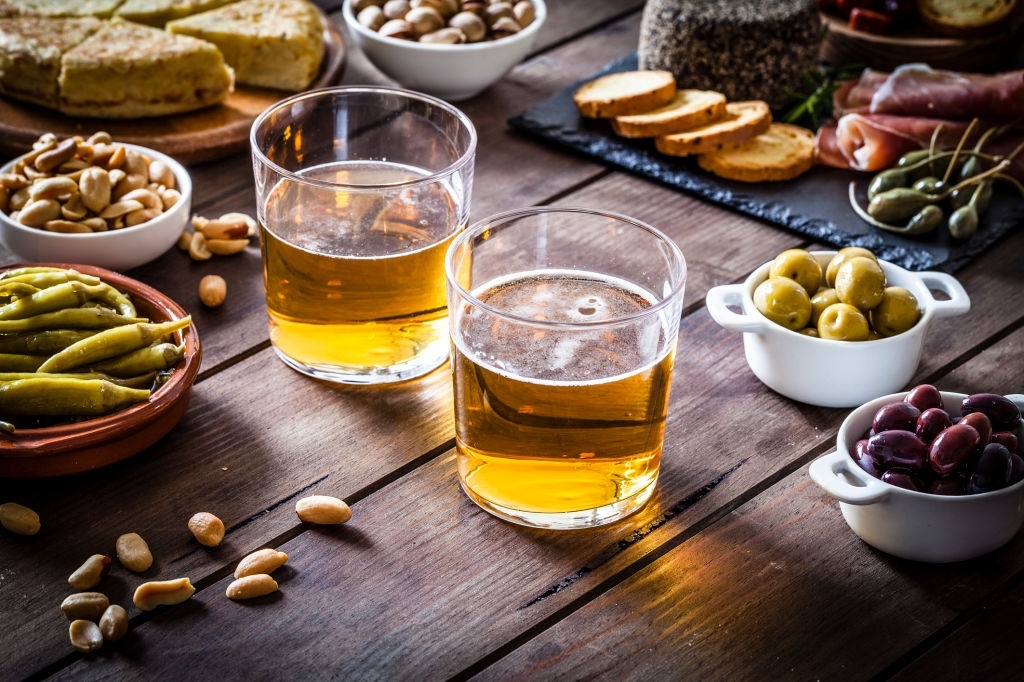 20210122_150536

Almajira 4

Almijara 2
20210104_115829

Spain,Malaga,Sierra de Almijara,elevated view over mountain range

Sayalonga

Caminito del rey 1

maroma - wilde paarden
IMG_0145

IMG_0111crop

IMG_0109
Tapas 3 + cana´s

Cycling with an electric mountain bike
Biking in the vicinity of Campo Agave is special. The natural beauty, the atmospheric white Andalusian villages and the spectacular views make cycling an unforgettable experience.At Campo Agave guests can hire high-quality electric mountain bikes from the brand KTM.   
More about e-bikes ....
Cycling in a stunning landscape with (almost) always good weather is possible  at Campo Agave. We have powerfull electric mountain bikes from KTM (the "Macina Force").  With these bikes the steepest slopes can be climbed without any problem. No experience with e-bikes or mountain bikes is required for cycling with the Macina Force. The operation is simple: you cycle as on a normal bicycle with gears, where you receive pedal assistance up to a speed of 25 km / h.
With the bed&bike package you can reserve one or two electric mountain bikes for a small surcharge of 25,00 EUR per bike for half a day (or 25,00 EUR/day). During your stay, you will then have access to an electric mountain bike from KTM (the "Macina Force") as well as free use of our collection of bike tours that we have set out.  The surcharge is EUR 15.00 per bicycle for half a day (EUR 25.00 for a whole day). You can also rent an e-bike on site (while stocks last), the rate remains the same.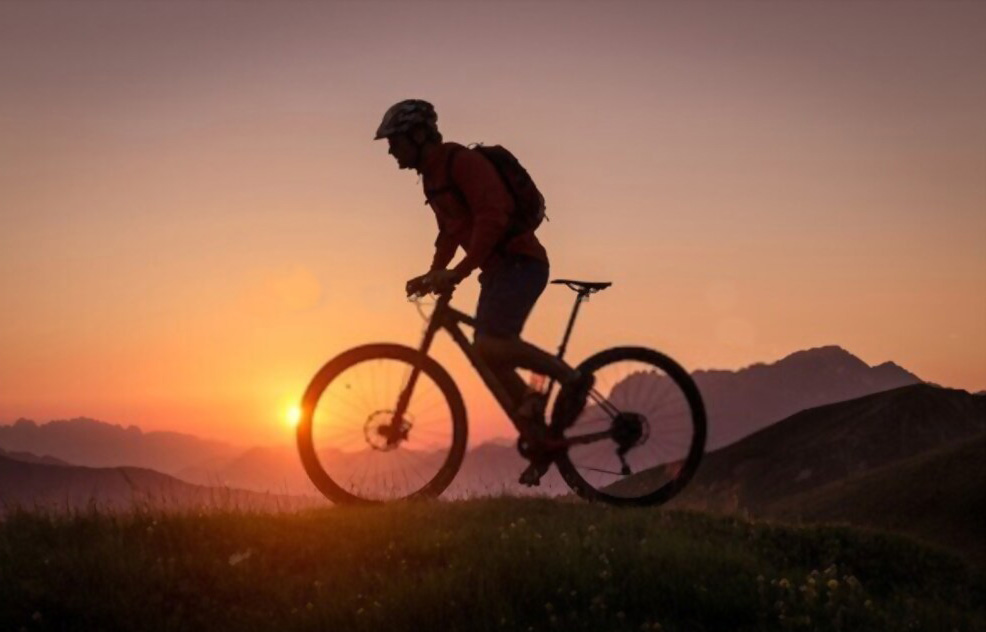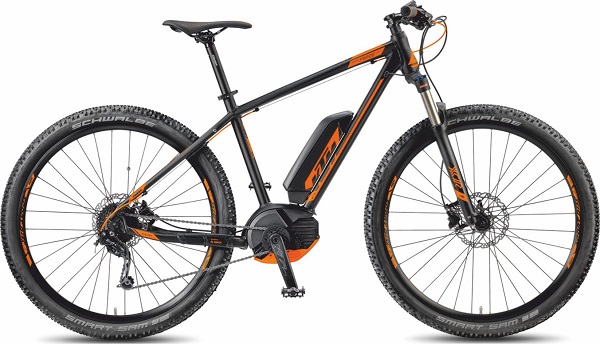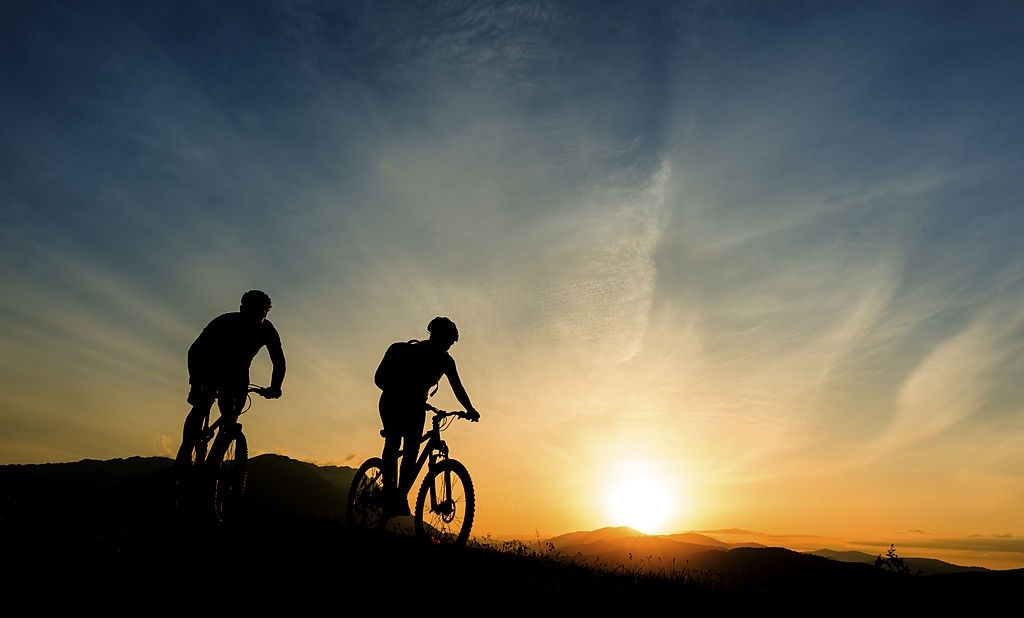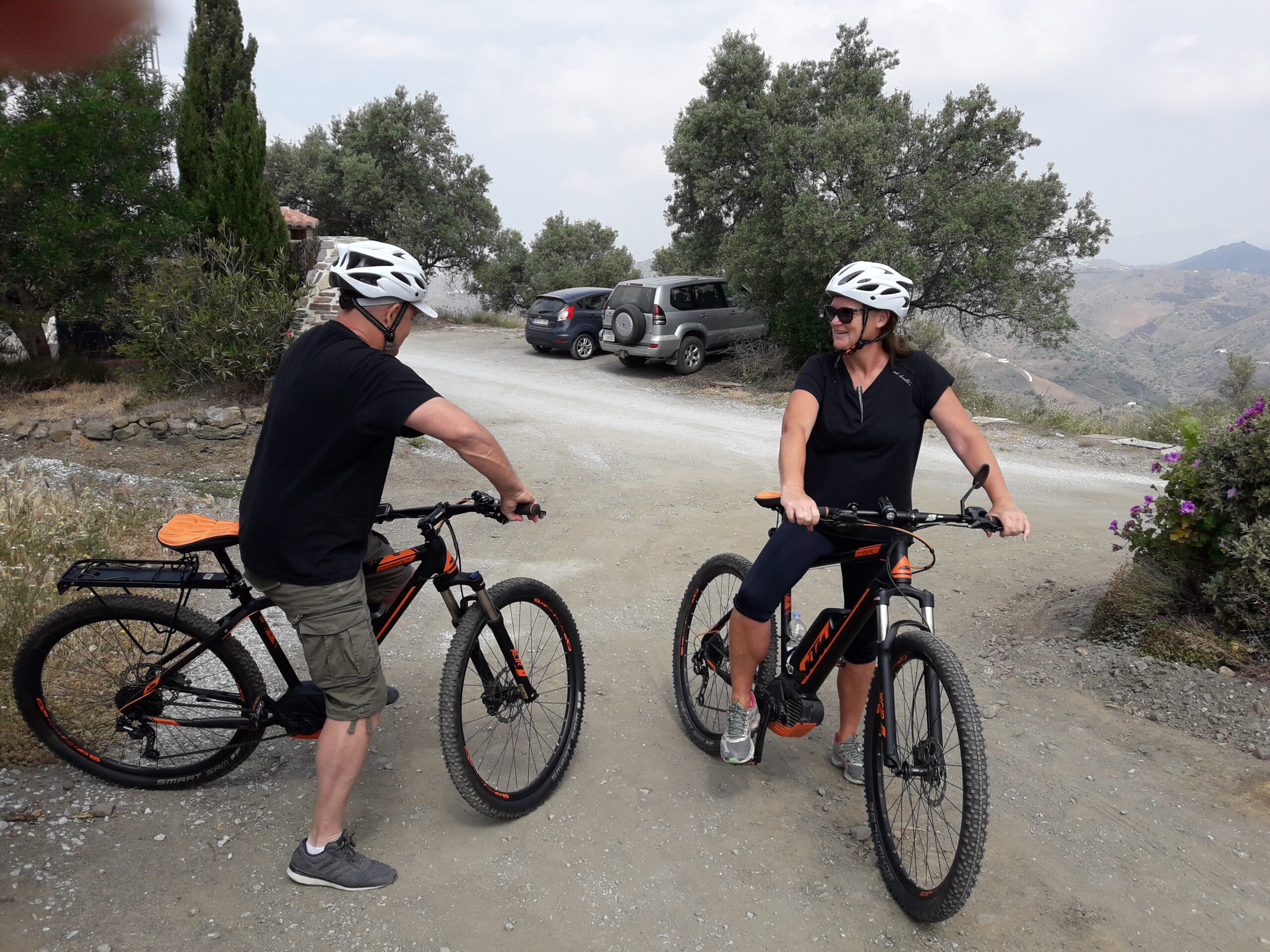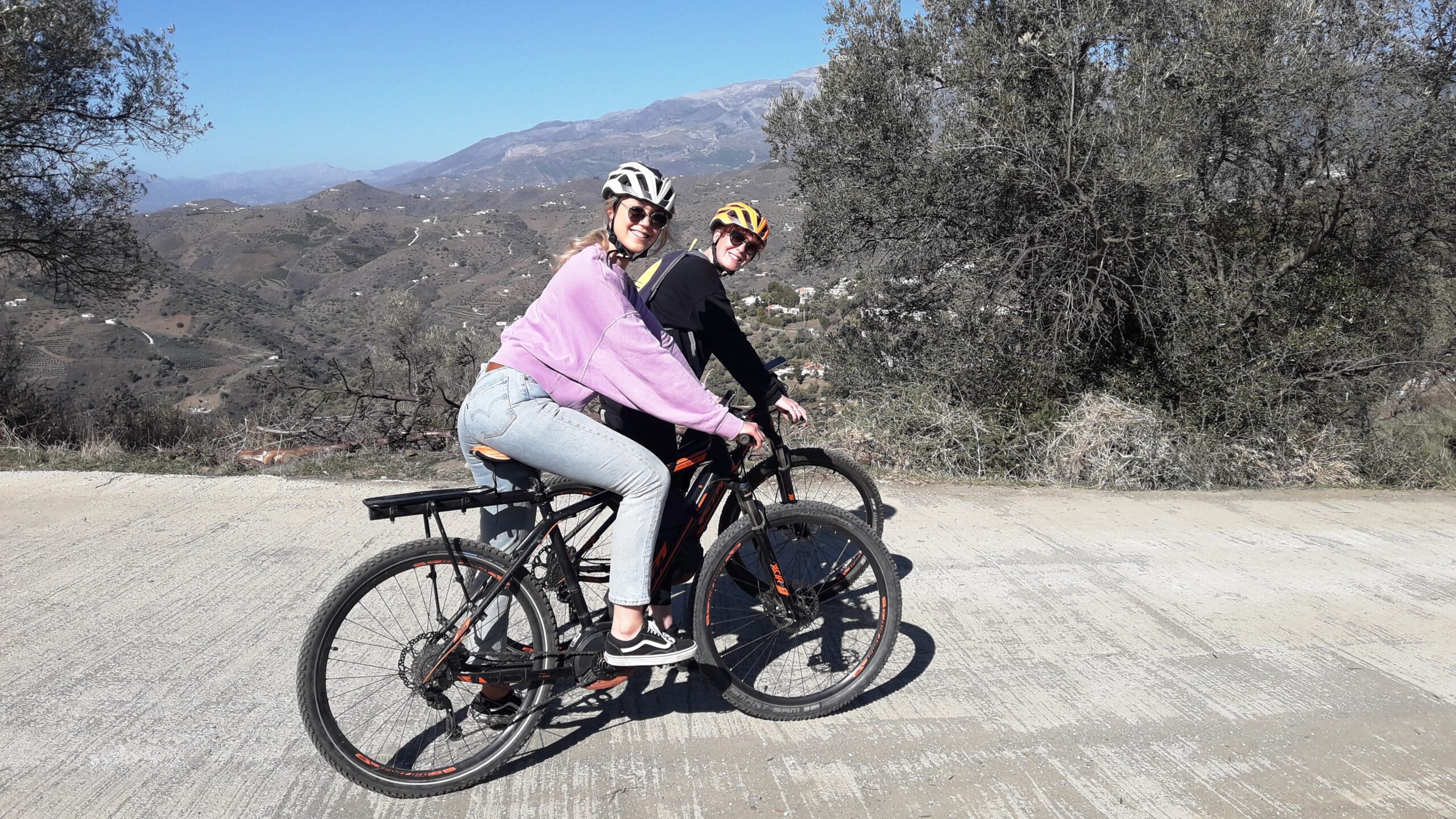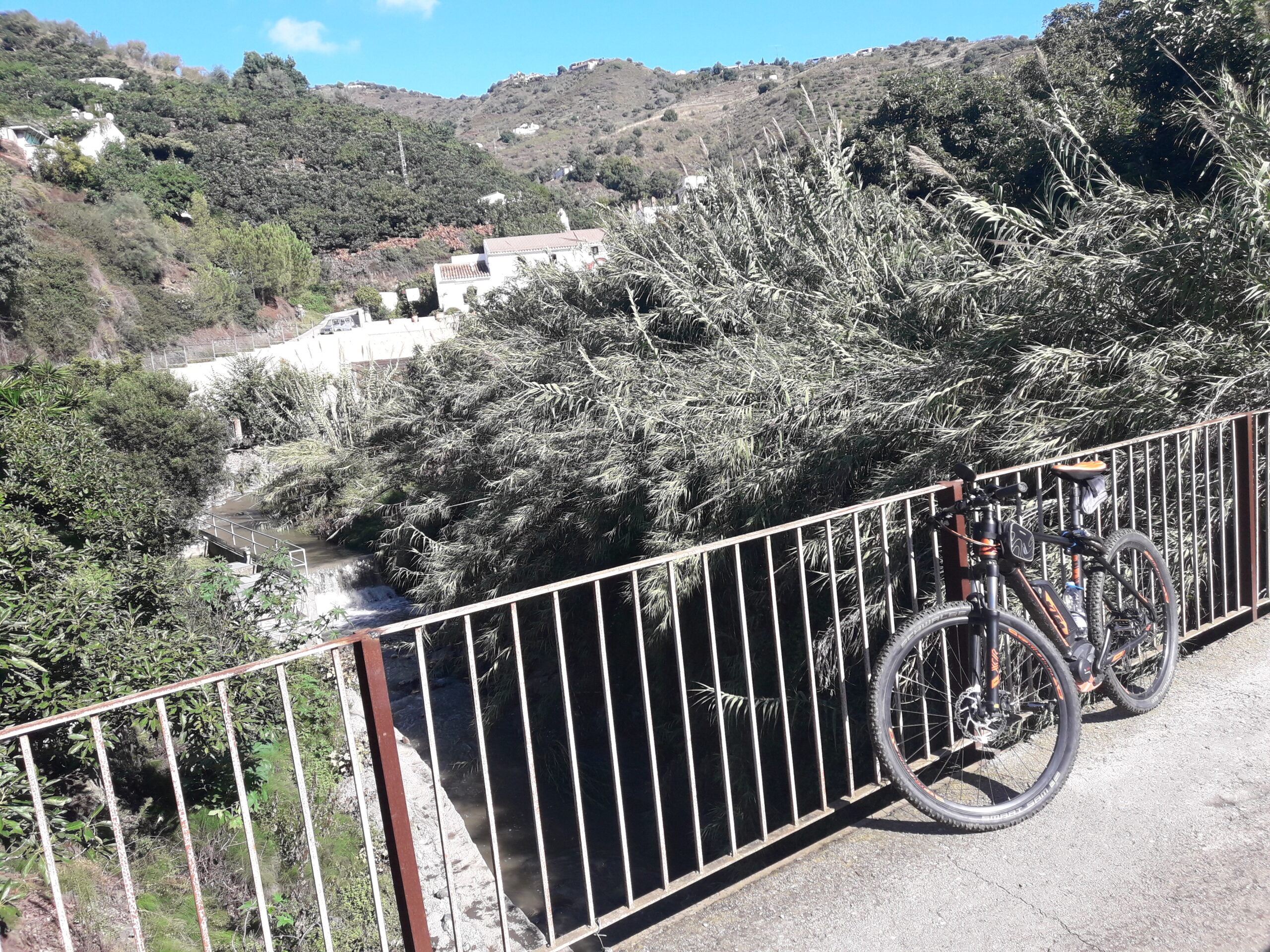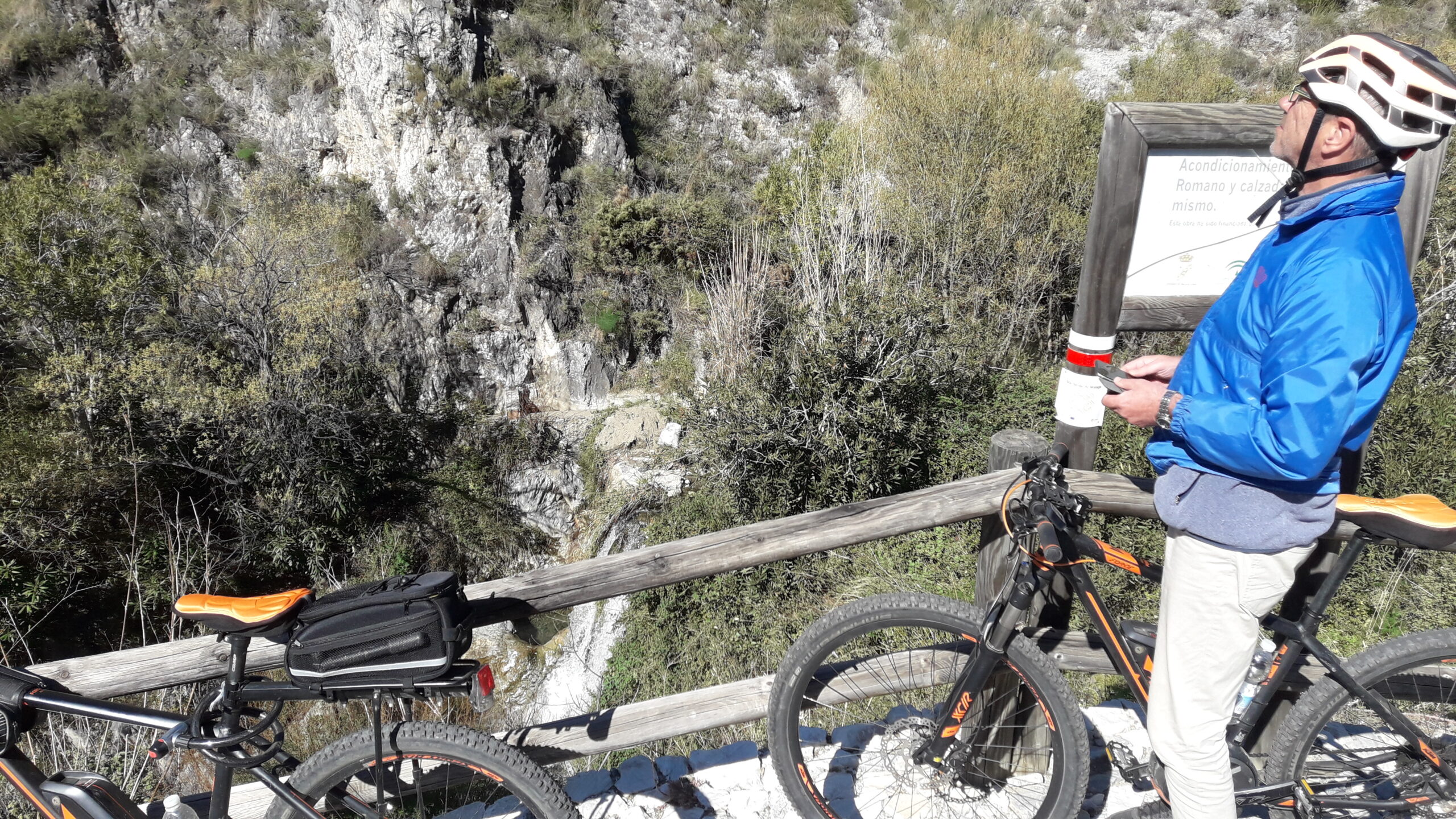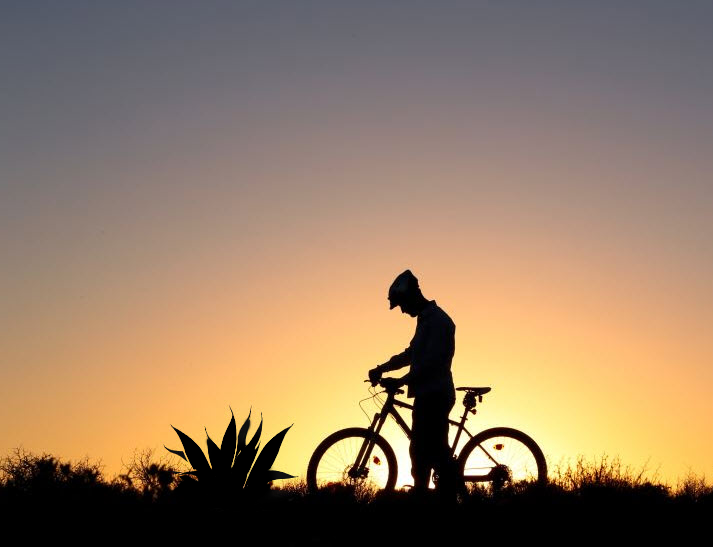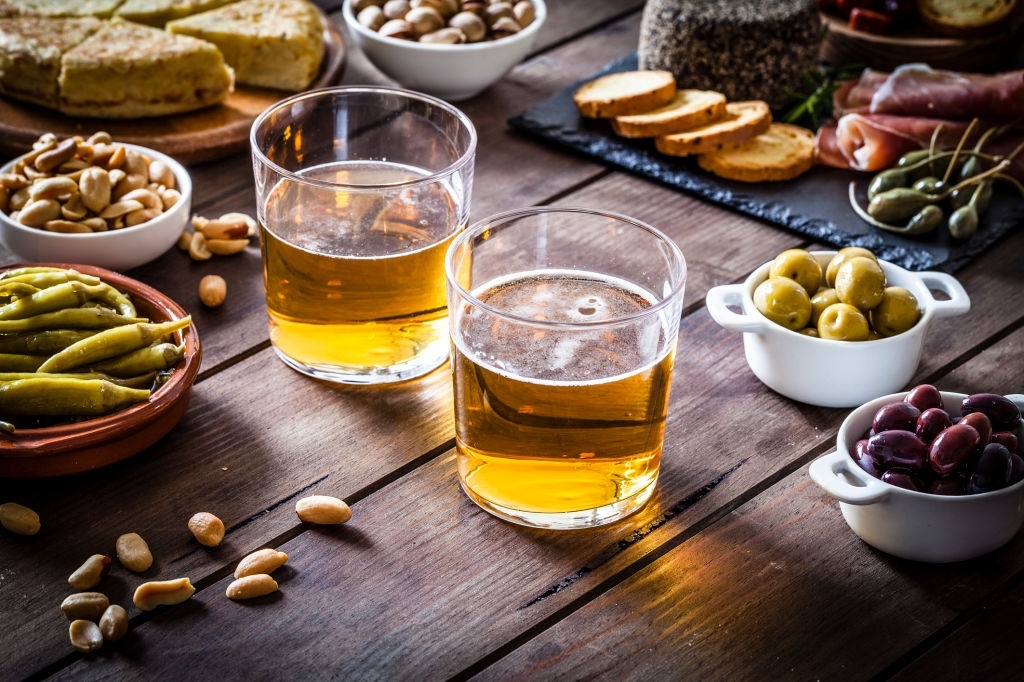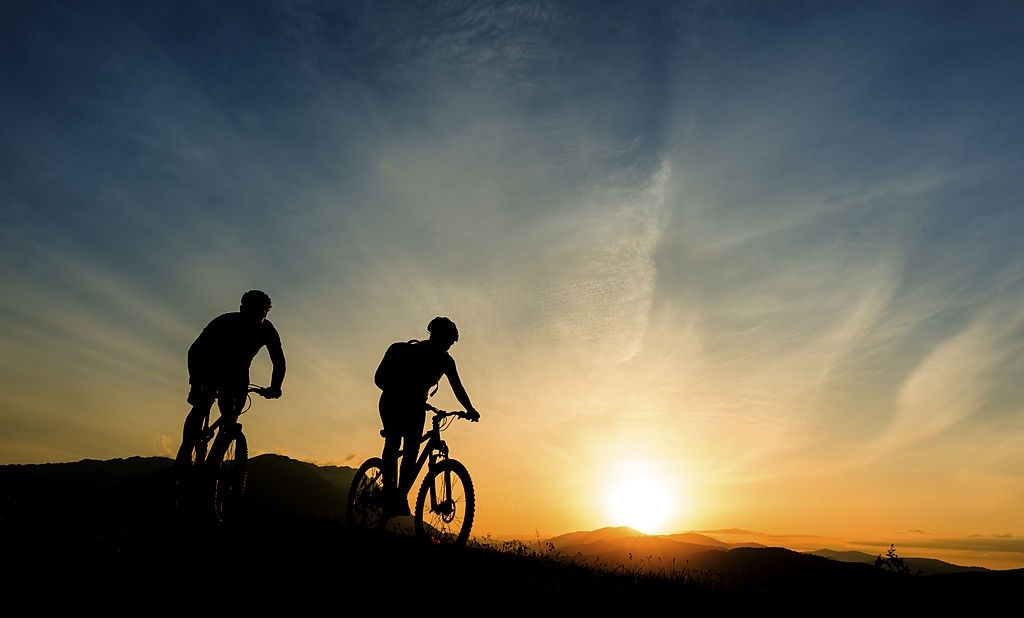 mountain biker
Bike-Rental-elecetric-mountain-bike
KTM 2
two bikers riding their bikes on hill at sunset.
2018-05-20 11.40.08
2022-02-01 13.37.40

2018-10-16 12.00.14

2019-02-13 12.57.49
Mountain Biker Sunset + logo

2018-05-31 14.51.26

2018-05-31 14.07.09

2018-05-31 14.06.34
Tapas 3 + cana´s

two bikers riding their bikes on hill at sunset.
Are you ready for Campo Agave?
Check out our availability!
Sayalonga 29752, Malaga, Spain