SPAIN – ANDALUCIA – SAYALONGA
Campo Agave
Rooms and Safari Lodges
Sun, nature, beach and culture: it comes together in Sayalonga
Boutique b&b  Campo Agave has comfortably furnished guest rooms and safari lodge tents.
The rooms and lodges all have private sanitary facilities and a private balcony or terrace with breathtaking views of the Mediterranean Sea….

Read more ...
Away from mass tourism, Campo Agave offers peace, relaxation and a perfect base for activities and excursions in the area. A 45-minute drive from Malaga and located on a southern spur of an extensive nature reserve, the beach, culture and nature are within easy reach.
The rich history of Moorish and Spanish culture can be found in the towns and white villages in the area.
The hosts of Campo Agave are Jes and Wouter. They live in a separate part of the site, know the area well and will do everything they can to make your stay as pleasant as possible.
Covid-19 update
Sayalonga, 14/1/2021
As in other regions in Europe, the South of Spain has recently seen an increased spread of the corone virus, which has resulted in new measures from the authorities which limits mobility of inhabitants and guests.  Of course we take the necessary precautions at Campo Agave. Hygienic cleaning procedures (regular cleaning, disinfection, we take care of that), availability of disinfectants for our guests and a general conduct code of 'social distancing' at the premises. Face masks may be worn if desired, but are not immediately required. In practice corona doenot lead to much stress at Campo Agave, because we are small-scale with plenty of space on the site. It helps that Campo Agave is outside the busier coastal area and has little run-up from non-guests.
If you would like to know more about the situation in the South of Spain, do not hesitate to contact us. We are happy to answer your questions. You can also check the english edition of the regional newspaper at http://www.surinenglish.com/


Surrounding area and activities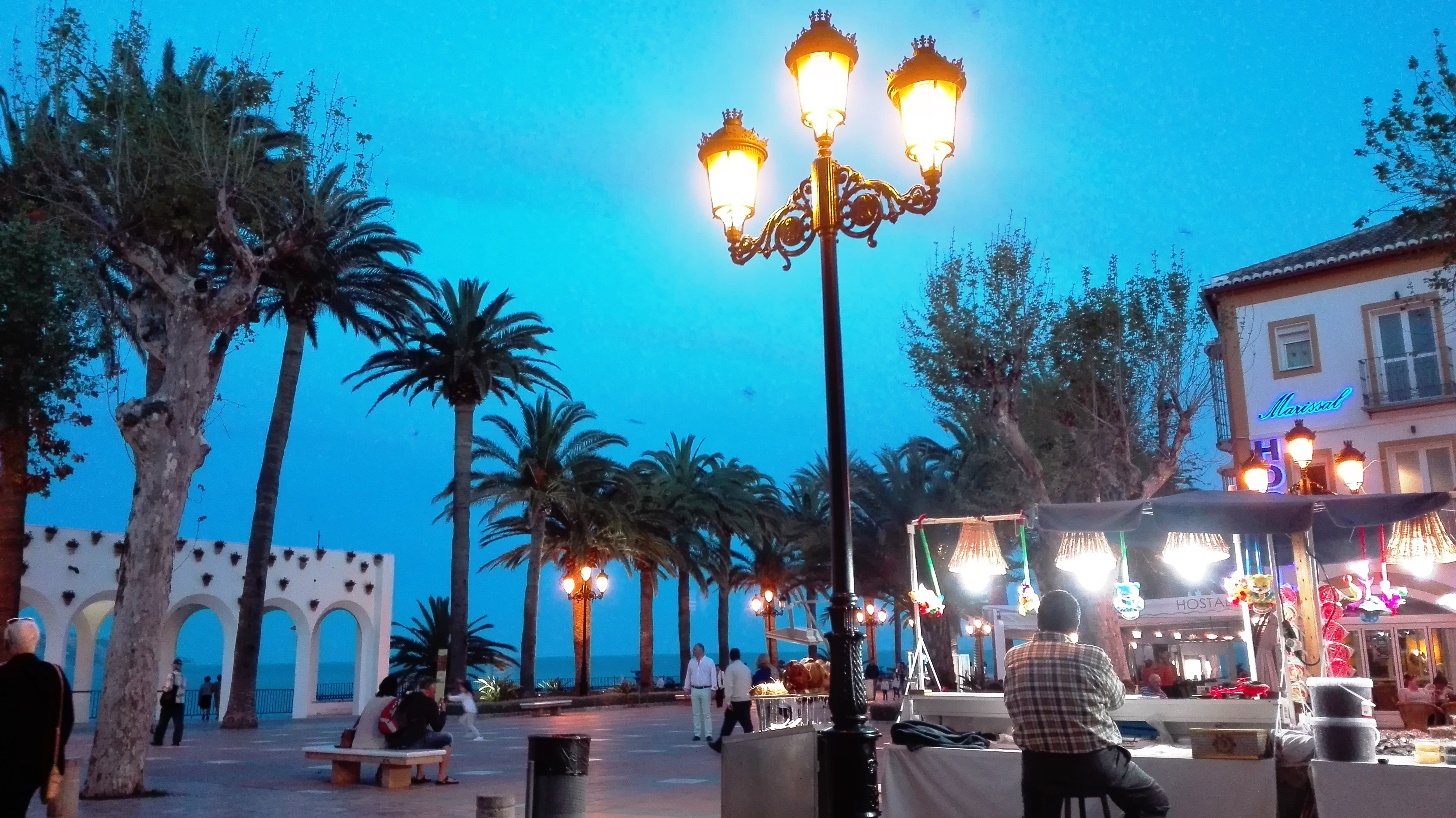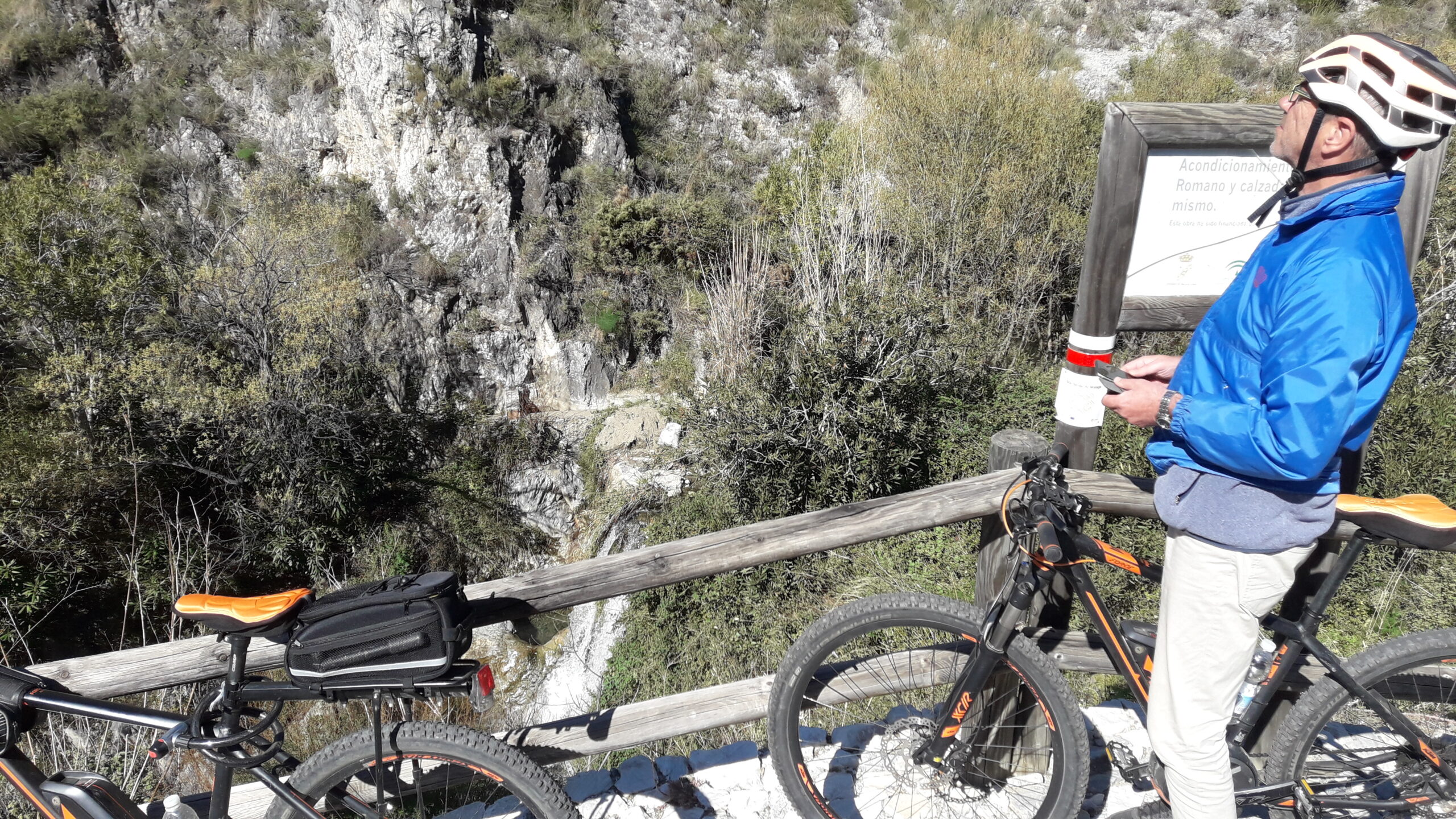 It is good to know that:
* Campo Agave is situated 7 km. inland from Algarrobo at the coastal A7 highway between Malaga and Nerja. By car from Malaga airport to Campo Agave takes 50 min.
* The weather conditions at Campo Agave are superb. The Mediterranean Sea guarantees lots of sun, with temperatures not to hot in summer and relatively warm in winter.
Surroundings
Campo Agave is situated in the region Axarquia (South Andalucia, East of Malaga), overlooking the Mediterranean from a secluded and quiet hill near the historic Moorish village Sayalonga.

It is a pleasure to explore the surrounding of Campo Agave. Via endless tracks, trails and quiet country roads one can truly enjoy the varied sceneries and landscapes of fruit and olive trees, flowering fields, historic villages and stunning mountain and sea views.  
Activities
Campo Agave is a good starting point for all sorts of activities, such as: 
* Discover the hilly surroundings of Campo Agave by foot on small and quiet 'campo' roads
* Visit one of the pueblo blancos, such as Sayalonga (3 km.) Competa (7 km.) and Frigiliana (15 km.)
* A cultural visit to Malaga, Granada or Cordoba
Good to know ...
* Check-in is from 14.00  until 22.00  p.m. , check-out is before 11.00 a.m.
* Free parking at the entrance of Campo Agave
* Breakfast is served in the room or tent between 8.00 – 10.00 a.m.
* Free use of the swimming pool and outside 'summer' kitchen.
* Wifi is available and for free.
* We rent out folding bikes at Campo Agave. Check out availability first.
* If wished we can offer drinks and BBQ-packages against a reasonable fee.
Surroundings ...
Nearby  are the Sierras of "Tejada y Almijara", a spectacular nature park with lots of hiking and guided tours possibilities. 
The Axarquia region is famous for its "Pueblo Blancos" (white villages).  The charming "plaza" of the white village of Sayalonga can be reached in 5 minutes by car or 20 minutes by foot. Within 20 car minutes are the charming towns of Nerja and Frigiliana and after 1 -2 hours you can find yourself in historic cities such as Granada, Cordoba, Sevilla, Malaga and Antequera.

Last but not least relaxing a day (or two) at the beach is a must when staying at Campo Agave. The beaches come in all sorts and sizes, varying from the close by beach at Algarrobo, the quiet sandy bays of the Cerro Gordo marine park to the more trendy Burriana Beach of Nerja.  
Activities ...
* A drive through the countryside with an electric mountain bike
* A relaxing day at the beach with lunch at one of the many chiringuitos (Algarrobo Costa, 7 km.)
* On the green with a greencard of Bavaria Golf (Algarrobo Costa, 7 km.)
* A guided tour with canoe or with 4X4 in the Natural Park Tejada, Almijara & Almara ( Salamandra in Competa).
* With a sea kayak into the protected marine parc Cerro Gordo  (Nerja-Maro, 20 km.). Check out the Dutch Scuba Divers
A birds eye view on Campo Agave
Guests can use various facilities, such as the pool, the 'honesty bar', the lounge area, the sun terrace and the outdoor kitchen. Use of the kitchen is free of charge. It comes with a refrigerator, crockery, cutlery and cooking and BBQ facilities.
Read more about our amenities ....
Pool
The pool of 5×9 m is open all year round. There is a terrace with seating, sun loungers and parasols. A refrigerator with cold drinks and ice is within reach. A lovely place on a hot summer day …
Outdoor kitchen
The outdoor kitchen with two picnic tables is available free of charge for all guests of Campo Agave. There is a gas stove, refrigerator, pans, crockery and cutlery. BBQ facilities are also available.
Safari Lounge 
When it is too cold outside or the sun is too bright, guests can find shelter in the safari lounge, close to the outside kitchen. The tent has comfortable seats, a fan and is heated in the winter months.
Food & Drinks
Upon arrival, all guests receive a welcome drink. For a small fee we can serve a snack (cheese plate, chips, nuts) and a drink (wine, beer, soft drinks). There is also the possibility to prepare a meal in the outdoor kitchen. On the property are two refrigerators with freezer.
Car rental
Our guests have good experiences with a local car rental company in Caleta de Velez. Favorable rates and a free airport shuttle  between Malaga and Caleta de Velez when the car is rented for a week or longer. No hassle at the airport with unclear insurance policies, high down payments or long queues. Interested? Ask us about prices and possibilities.
Bed & Bike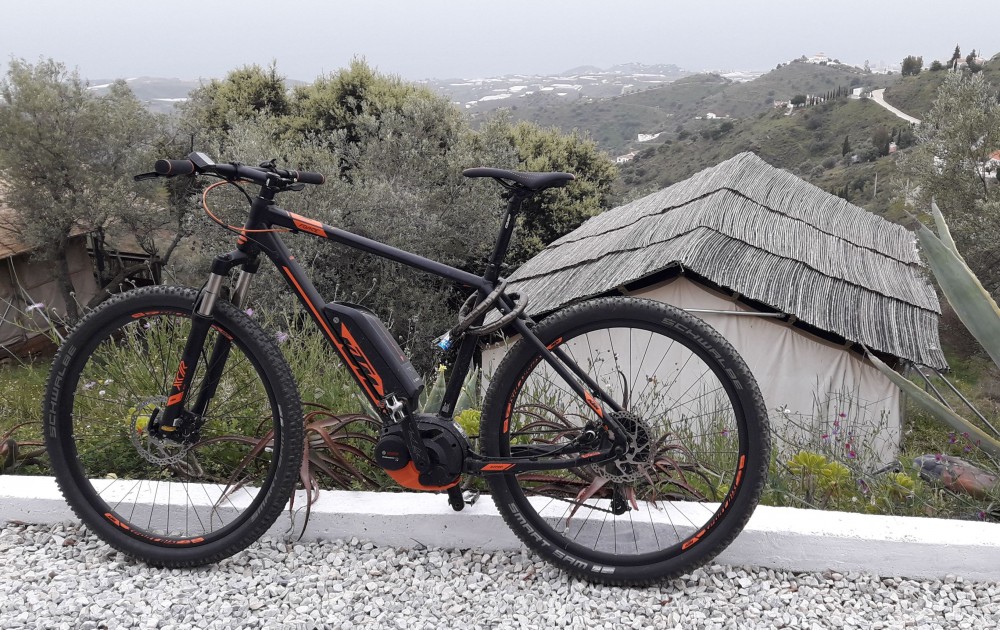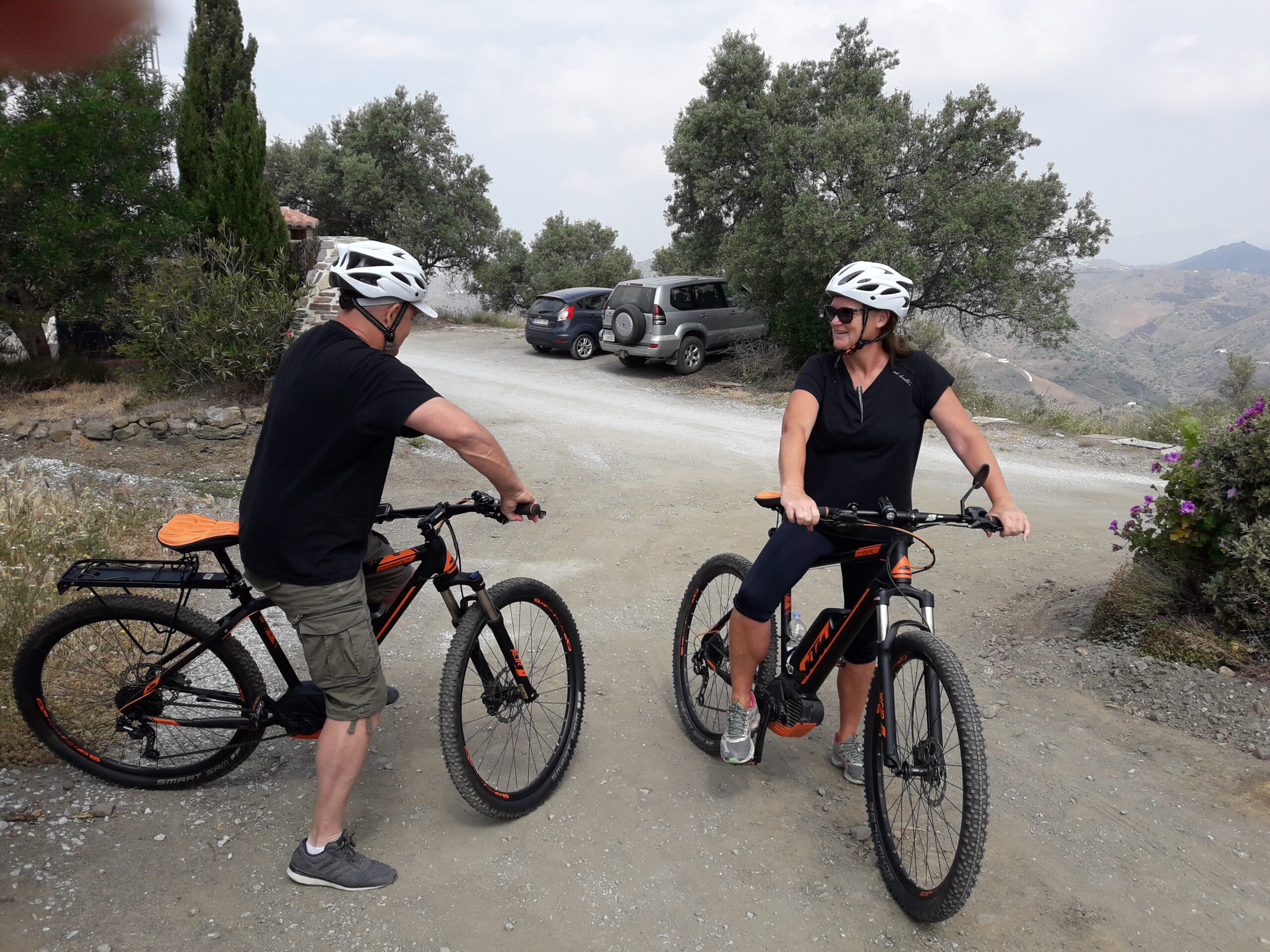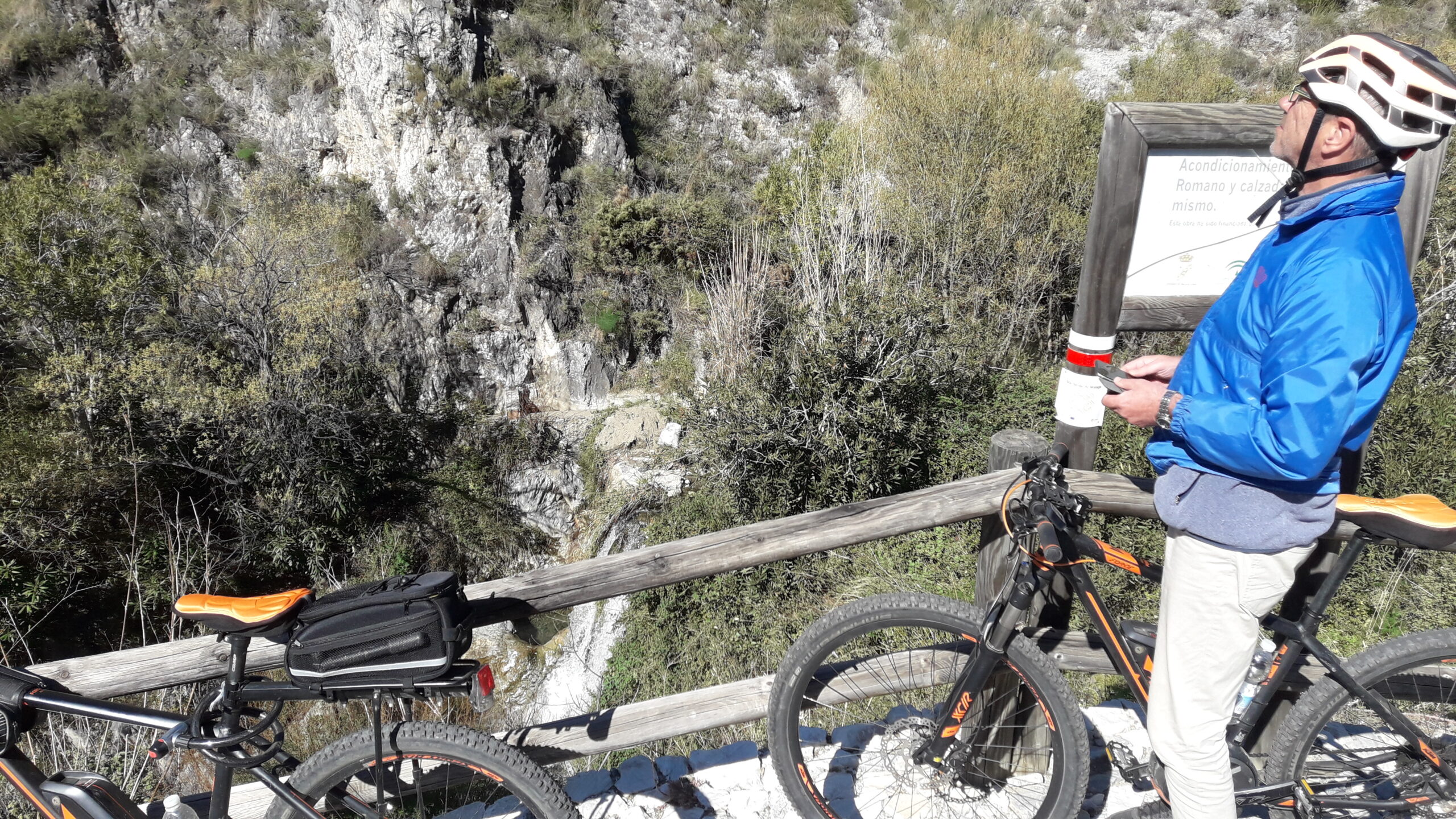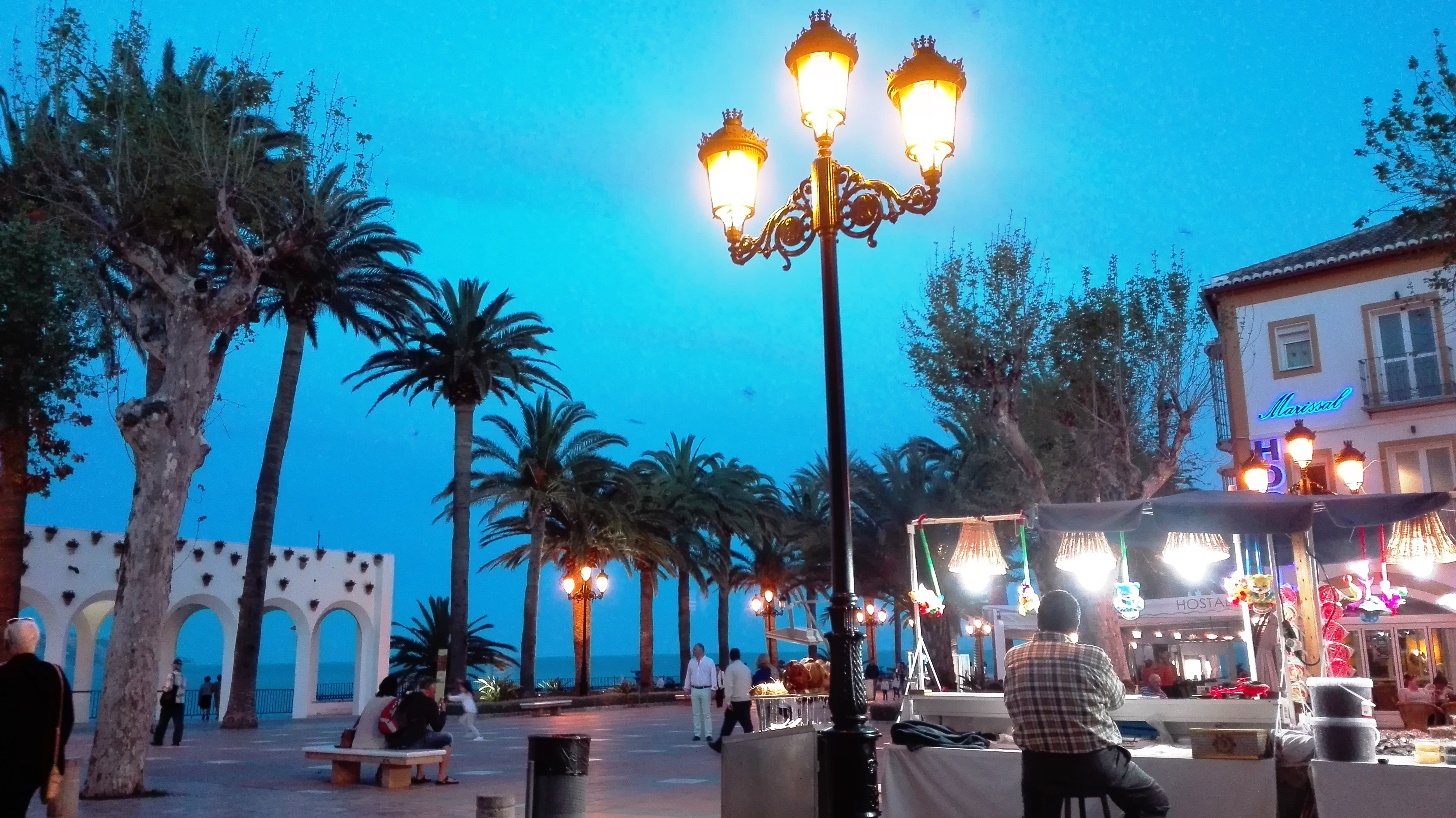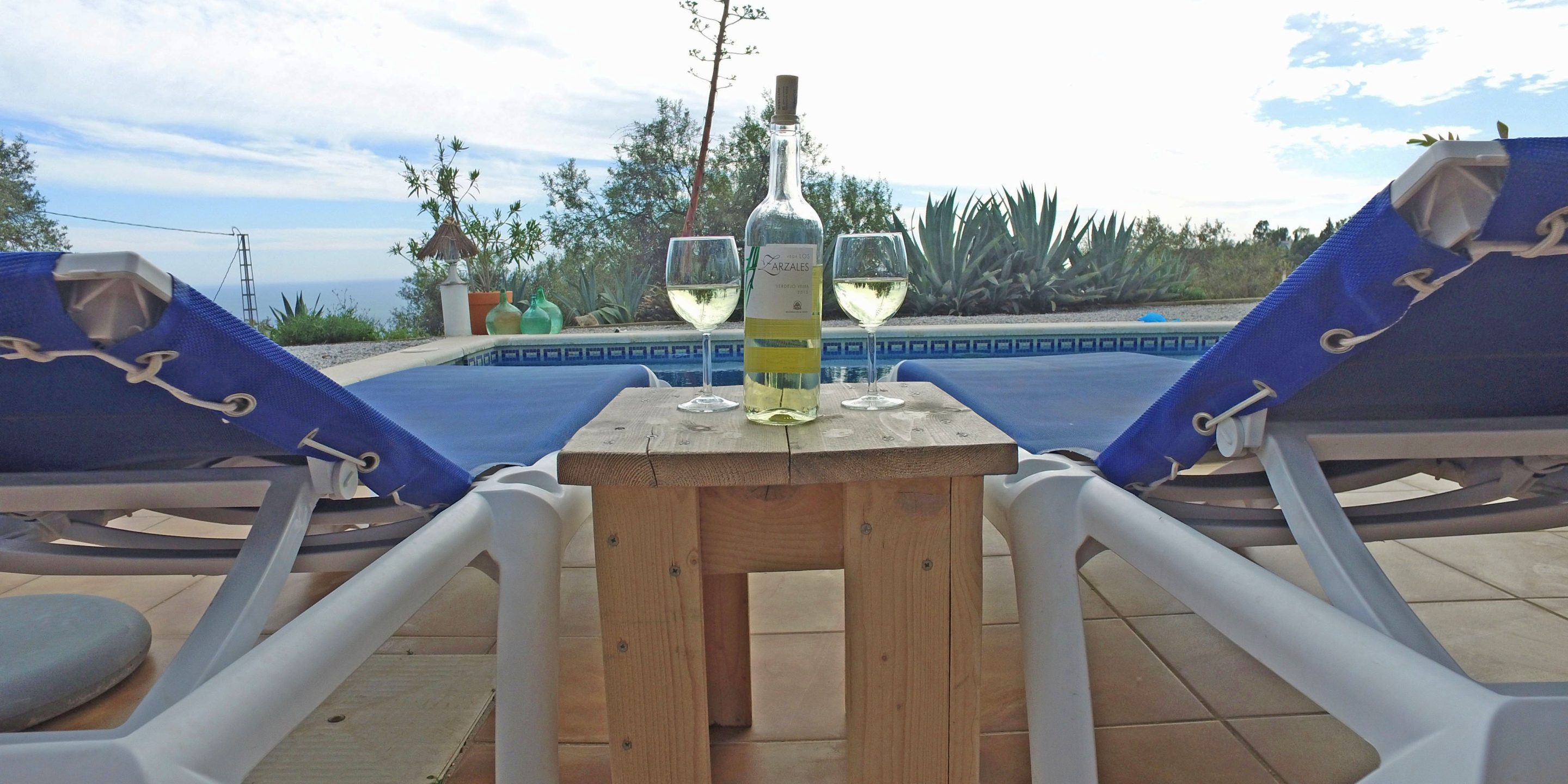 Hiking in the countryside
The beautiful surroundings of Campo Agave are ideal for exploring by foot. We are happy to advise you on  hiking routes.  In our 'library' you can find various hiking books and maps, as well as digital GPS routes that we can send to your phone if desired.
More about hiking ....
The mountainous landscape around Campo Agave has a varied Mediterranean flora and fauna with beautiful views to the mountains or the Mediterranean Sea. There is an extensive network of paved  and unpaved roads and goat trails, some of them dating back to the period when the Moors ruled over Andalusia. Take your time if you have to wait for a chameleon or a shepherd with his goats on the way. You can also come across special birds, such as the hoopoe, bee-eater, snake eagle, and after sunset nightjar and eagle owl.
E-mountain bike rental
With a bed & bike package small  you can use the electrical mountain bike every day during your stay.  It will cost you a relatively small surcharge of 15,00 EUR per bike per day. You can reserve the bikes in advance, or rent them on site (only when available).  
Read more about Bed & Bike ....
Cycling in a stunning landscape with (almost) always good weather is possible  at Campo Agave. We have powerfull electric mountain bikes from KTM (the "Macina Force").  With these bikes the steepest slopes can be climbed without any problem. No experience with e-bikes or mountain bikes is required for cycling with the Macina Force. The operation is simple: you cycle as on a normal bicycle with gears, where you receive pedal assistance up to a speed of 25 km / h. For a relatively  you can upgrade your booking to a bed & bike package. Included is the free use of about twenty bike tours that we have set out. The routes are very varied. Your own smart phone acts as a GPS route planner. A tour will last in between 1.5 and 3 hours.
Hiking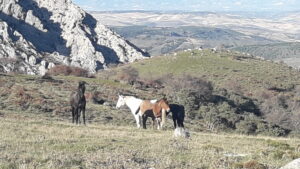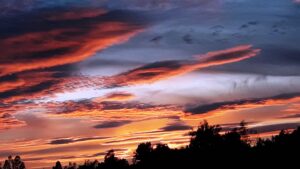 Are you ready for Campo Agave?
We still have accommodation available!
Any questions? Let us know with the form below, or ask for a quote without obligation
Sayalonga 29752, Malaga, Spain